Carpet technique embroidery
Do you want to make a carpet with your own hands? With carpet technique embroidery kits by PANNA® it can be done simply and quickly.
Firstly, the kit includes all the necessary materials and tools:
canvas-stramin
acrylic threads (cut)
hook for carpet techniques
color scheme
Secondly, the technique of carpets creation itself does not require any special skills.
You should start the work from the bottom left corner. It is much easier to make loops in a column from bottom to top or in a line from left to right. So the finished carpet filaments would not prevent pulling the hook through the canvas.
1. Pull a hook and latch of the tool from the front side of the canvas through 2 neighboring cells from bottom to top. Place the thread under the tool closer to the knob. The tool must be in the middle of the thread.
2. Fold the ends of the thread and slide them into the hook over the open latch.

3. Close the hook latch so that the threads will be inside the hook.
4. Pull the tool out of the canvas, tighten the knot.
It is quite easy to take care of the finished carpets. Take note of the care icons indicated on the box.
| | |
| --- | --- |
| | do not iron |
| | gentle hand washing (not above 40°C) |
| | dry clean using any solvent except trichloroethylene |
| | do not bleach |
| | do not dry (used with do not wash) |
Latch hook kits from PANNA® are a very exciting and easy thing to do!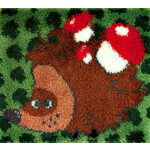 KI-1883 Fawn Rug
61.79 euro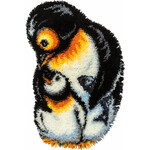 KI-1503 Penguins Rug
53.89 euro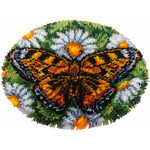 KI-1583 Butterfly Rug
53.89 euro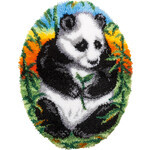 KI-1851 Panda Rug
61.79 euro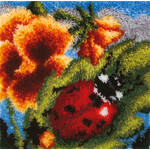 KI-1220 Ladybird
39.66 euro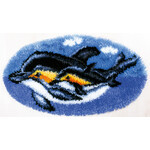 KI-1495 Dolphins Rug
53.89 euro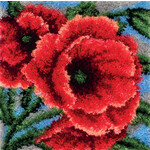 KI-1342 Red Poppies
39.66 euro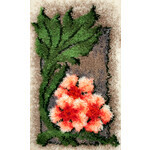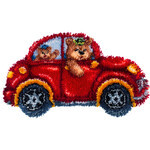 KI-1162 Peonies
39.66 euro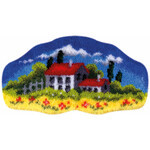 KI-1341 Country Scenery
48.62 euro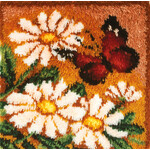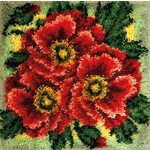 KI-1340 Poppies Trio
39.66 euro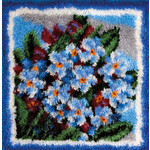 KI-1025 Blue Flowers
39.66 euro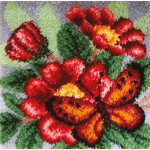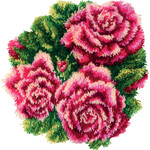 KI-7037 Roses Rug
61.79 euro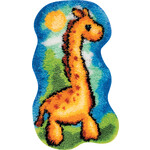 KI-1993 Cheerful Giraffe
61.79 euro