Methods of embroidery with color-blend yarn
Embroidery with color-blend yarn is good because being simple in performance it gives full scope for creativity. In case of small works it often happens that transitions from shade to shade are poorly visible. To avoid this, you can use a few tricks.
1. Take two threads from the lea, instead of folding one thread in half.
2. Embroidering with color-blend yarn is recommended to be made by cross in one step. There are two ways.
Backside looks like this:
Backside looks like this:
3. If you think that the element of one shade too large, you can cut the thread and take the next thread of a lighter or darker shade.
4. For more contrasting transitions elements of thread with similar shades can be cut.
Using the shades of color-blend yarn, you can achieve different effects.
1. A common way of embroidery is in rows.
2. If you don't like only the transitions from light to dark, you can embroider the design in fragments by cutting off the desired colors from the thread. For example, use dark shades for the roof, windows and doors, and embroider the house walls with lighter ones.
3. In addition to the rows, you can embroider diagonally...
| | | |
| --- | --- | --- |
| | ...or helically | |
4. In case of complex forms (flowers, leaves, animals) you can sew adhering to the contour lines.
5. Embroidery with color-blend yarn, folded in half, gives a soft color with small, muted shades transitions.
The classic way to cross stitch with a thread folded in half:
Cross stitching in one step with a thread folded in half:
In the design you can combine both methods of cross stitch:
for more contrasting transitions cross stitch in one step;
for a gentle, smooth color cross stitch in two steps (classical method).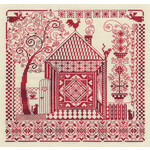 SO-0886 Hearth and Home
12.79 euro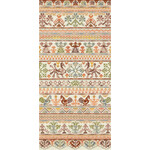 O-1956 Russian Traditions
21.22 euro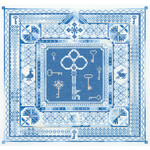 SO-1378 Power and knowledge sampler
18.59 euro